Before the first ballot has been cast Donald Trump has declared himself the victor. He is the man in charge. As he sees it, being the man in charge means telling other people what to do, how to run their businesses.
Now, he has taken on the man who created Fox News, Roger Ailes. One suspects that Trump was just getting tired of kicking around politicians. It was just too easy to pound Jeb Bush. In the world of reality television, Trump is a master. No candidate compares when it comes to occupying space on television. Trump has barely spent any money advertising, but all the television networks report his every word. They fall all over themselves to give him air time. After all, Trump means high ratings, and who doesn't want higher ratings?
If Trump was tired of squabbles and "squirmishes" with mere politicians, why not go after the king of television news, the impresario who made Fox News into a titan. If you want to be the king, you must replace the king, and when it comes to reality television qua news the king is Roger Ailes.
Better yet, when a Republican attacks Fox news it looks like a Sister Souljah moment. Any Republican can trash MSNBC, with impunity. It fires up the base, as they say. But, for a Republican or a would-be Republican to attack Fox News, that takes courage. It takes fortitude and it appeals to those who think that Fox News is the Inferno and that Roger Ailes is Lucifer.
Of course, people who hold to New York values hate Fox News. They consider it to be the root of all evil… or at least the evil that has not been caused by the Tea Party and George W. Bush.
By dissing Fox News, and refusing, for now, to show up for the Thursday debate, Trump is dominating the news cycle and showing off his New York values.
One must point out that the general opinion, from commentators on the left and the right was that the Fox journalists did an excellent job, took a fair and balanced approach, in the first debate. Obviously, DT did not think so. He took serious exception to the process and especially to one Megyn Kelly.
Go back to the beginning. People forget the opening salvo of the first debate. The moderators asked the assembled candidates to raise their hands to show that they would support the Republican nominee, no matter who. All but one did.
It was serious television drama. Was Ailes behind it? I suspect that he was. Was he trying to humiliate Donald Trump? I suspect that he was.
Truth be told, Trump still came out on top. His supporters loved him more than they had before, if that is possible, and his detractors softened their attitude. It looked like he could handle tough questions and retain his composure under fire. Future debates seemed to prove the point. Trump may not be a professional debater, but he did better than hold his own.
Still, Trump was seriously piqued. But, he did not go after Ailes directly. Why attack the king when you can attack someone he cares about, his franchise, his greatest creation, Megyn Kelly. Increasingly, Kelly looks like the face of Fox News and the future of Fox News.
As it happens, Kelly has become a media darling. She has received fawning cover profiles in the New York Times Sunday Magazine and Vanity Fair. For people with New York values, it doesn't get much better than that. Megyn Kelly is becoming what is called in another context, a crossover talent. She is working on a conservative channel, but has become a darling of the liberal media. Not because she is a liberal—she is far more conservative than liberal—but because she is just as adept at confronting and debating conservatives. She is always fair and balanced….
Anyway, Trump was sorely offended at the questions that Kelly asked him at the first debate. He responded her in personal and vulgar terms. Since Kelly asked Trump about the way he speaks about women, his attacks on her have simply proved her right.
In the meantime, Trump's fan base does not care. It seems to believe that speaking ill of women is the antidote to feminism. It isn't, but who cares?
So, Trump has been riding high in the polls. Debates in which he participates have spiked television ratings and brought in considerable advertising dollars. So, why not use his power to abuse Megyn Kelly and to push around Roger Ailes. Clearly, that would make him the king of all reality media… don't you think?
Trump might have been thinking this way. He might not have been. He has been running a campaign on his instincts, and, for now, his instincts have been much better than some of us imagined.
One suspects that Trump felt humiliated in the first Fox debate. And he must have felt that Ailes did it on purpose. Now, he is looking for payback. If it feels thin-skinned, that's because it is. If it feels like throwing one's weight around, trying to look strong when you are feeling weakened, that's because it is. It might not be the most civilized way to save face, but many people would do the same. They hurt his feelings; now he is going to make them pay... in the most literal sense.
Anyway, the Washington Post has reprinted Kelly's remarks. I quote them for your edification:
Mr. Trump, one of the things people love about you is you speak your mind and you don't use a politician's filter. However, that is not without its downsides, in particular, when it comes to women. You've called women you don't like 'fat pigs,' 'dogs,' 'slobs' and 'disgusting animals.' ...
Your Twitter account has several disparaging comments about women's looks. You once told a a pretty picture to see her on her knees.
Does that sound to you like the temperament of a man we should elect as president, and how will you answer the charge from Hillary Clinton, who was likely to be the Democratic nominee, that you are part of the war on women?"
One notes that Trump interrupted the question to point out that he had only said those things about Rosie O'Donnell. His fans cheered heartily. To that Kelly pointed out that he was wrong. The Washington Post checked the facts and said that Kelly was correct. To Trump supporters, it did not matter.
And Kelly asked this, which echoes the point that Trump first made in 1999 about New York values:
Mr. Trump, in 1999, you said you were, quote, 'very pro-choice.' Even supporting partial-birth abortion. You favored an assault weapons ban as well. In 2004, you said in most cases you identified as a Democrat. Even in this campaign, your critics say you often sound more like a Democrat than a Republican, calling several of your opponents on the stage things like 'clowns' and 'puppets.' When did you actually become a Republican?
It's a fair question, because Trump has been touting his conversion to Republicanism. He has made it sound like he converted when he was struck by lightning on the road to Damascus. This seems sufficient for many evangelical voters, who are now flocking to Trump because of a text they found in 2 Corinthians.
The Post adds that the other candidates also received pointed and tough questions, questions designed to address their weaknesses.
Anyway, Donald has been feuding with Kelly ever since. It does not seem very dignified to me, but it does seem to have been working.
So well that Trump recently decided to up the game with his true opponent, Ailes, by demanding that Megyn Kelly be excluded from the upcoming Fox debate. He accused her of being unfair and biased against him and he said that if she was there, he would absent himself. He knew that his presence would mean big ratings and more advertising revenue. Why not leverage his power to kick around Roger Ailes?
To be clear, there is no way on earth that any news organization can possibly accede to such a demand. To do so would discredit it immediately. It would become, if I may use this harsh language, Trump's bitch.
Perhaps Trump was just playing chicken with Fox News. Perhaps he had intended to make his point and then to show up. After all, the debates have been a boon to him. But then, Ailes fired back at him yesterday afternoon, through a spokesman, in distinctly unflattering language:
We learned from a secret back channel that the Ayatollah and Putin both intend to treat Donald Trump unfairly when they meet with him if he becomes president—a nefarious source tells us that Trump has his own secret plan to replace the cabinet with his Twitter followers to see if he should even go to those meetings.
Apparently, this was one insult too many. No one could be allowed to ridicule the Donald and to get away with it. Trump folded his cards and walked away from the debate. For now, at least.
Obviously, he is opening himself up to charges of chickening out. He is opening himself to charges that he is afraid to face a woman. But he believes that he is looking tough and his supporters might very well be contented with that. Clearly, Ailes or Kelly or both have gotten under his skin. How will it work out in the end? We do not know. Underestimating Donald Trump has not been a very winning strategy lately.
Obviously, Trump's opponents are trying to seize the initiative by suggesting that Trump is not man enough to deal with Megyn Kelly. Ted Cruz invited Trump to a one-on-one, mano-a-mano debate, moderated by whomever he wishes. And someone created a new hashtag: #DonaldDuck.
When Trump withdrew from the debate, a Fox spokesperson issued this statement: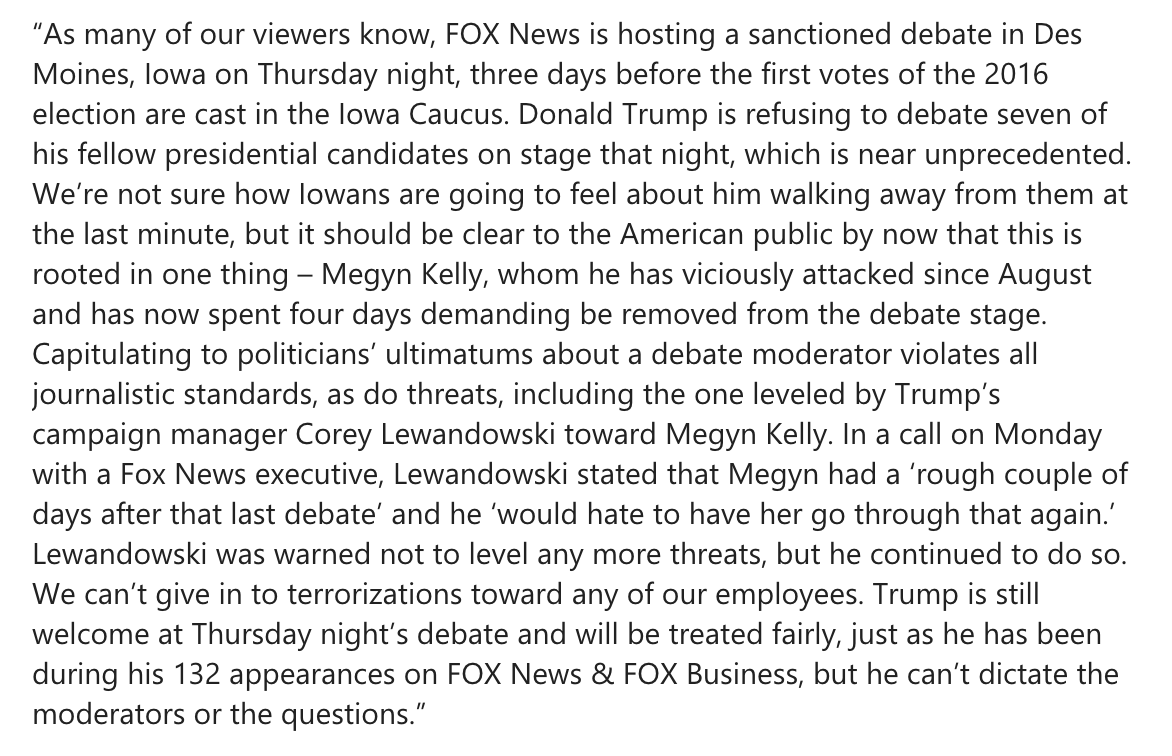 Now, Gabriel Sherman reports in New York Magazine that the powers at Fox are very upset and that the conflict with Trump is exposing divisions within the organization… especially between those who support Megyn Kelly and those who resent her being the new face of the network.
For now, Sherman writes, Trump wants to appeal to a higher power: Rupert Murdoch himself:
Trump advisers are privately telling people that he will only deal with Rupert Murdoch to resolve the dispute. Having Murdoch dragged into the mess could be a serious problem for Ailes. The CEO earned Murdoch's trust because Fox generates $1 billion in profit, but also because he was always in control. But in recent months Murdoch has been attending news meetings at Fox in the wake of a health scare that forced Ailes to take an extended leave of absence. Succession planning at Fox is very much on Murdoch's agenda. If Ailes loses his grip on the Trump situation — and right now it looks like he is — Murdoch will have another reason to worry about the stability of his most valuable asset.